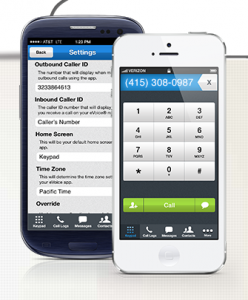 A recent survey of customers shows that 71% use a mobile phone most frequently to conduct business. These days, there is a mobile app for almost anything you can think of. There are now over 400,000 apps for just the iPhone according to the latest numbers from Apple. Trying to determine which apps are right for you can be a difficult and time consuming process. Finding apps that are actually useful for you can be even more challenging, and costly. In this post, I will show how the eVoice mobile app can be a useful tool in managing your communications efficiently.
When a Product Team develops a mobile app, one of the primary goals is to provide customers with a simple and useful way to access some of the most popular features of the service. One of the key benefits of a service like UWT is the ability to maintain a professional image at all times, no matter where you are answering or making international phone calls.
Many customers are consultants, freelancers, self-employed, or entrepreneurs trying to run a business by themselves or with just a few employees. Hiring a full-time, or even part-time, employee to answer and direct calls simply isn't in the budget for many of these businesses. While there are "Live Receptionist" services that are less expensive than hiring a receptionist, they can still cost more than 10 times the amount of a virtual phone number.
eVoice acts as a "virtual receptionist" that answers inbound calls, professionally greets callers, and automatically routes calls to any phone. Here are some situations where the free mobile app for your iPhone, Android, or BlackBerry device becomes especially useful.
1. Make outbound calls from your virtual phone number.
Let's say you have a client, Matt, that you call on a regular basis. Matt is very busy and only accepts calls from numbers he recognizes, and he has your virtual phone number listed in his contacts. You have left your office early to visit the dentist. While you are in the waiting room, you read a voicemail message (yes, I said read – more on that in #2) that indicates Matt needs to hear from you about an important transaction. Matt is an important client and you want to get in touch right away, but Matt might not answer a call from your personal cell phone. However, with the eVoice mobile app you can place an outbound call using your virtual phone number. Matt will recognize the number, even though you are calling from your personal cell phone, and you just provided great service to an important client.
2. Manage your voicemail messages more effectively.
Natalie works as a successful wedding photographer. She gets a lot of phone calls from prospective clients with contact information, and also from wedding magazine sales reps asking her to advertise. Because she is often working a shoot or meeting with clients, most of her callers get forwarded to voicemail. The eVoice virtual phone number she uses as her business number includes voicemail transcriptions. Within seconds of getting a new voicemail, the message is transcribed to text and sent to her mobile app. Natalie can now quickly read the voicemail message on her phone. This is beneficial in several ways. First, it saves her the time of having to call in and retrieve messages via the phone. Time that is better spent attending to her business. Second, it allows her to organize messages and search transcriptions. That way, if she needs to reference the important information in a previous message; she can search for text in a message or even organize messages into folders for clients and vendors. The last benefit is related to #1. The mobile app provides call back functionality for voicemail messages and transcriptions. Simply select "Call Back" from the mobile app, and it will place a call to the caller id number used when the message was left.
3. Speed Dial.
The mobile app contains a speed dial section that allows you to easily add numbers to your list of important contacts. This feature also syncs with your online account management settings so that you can make changes on your phone and change or update them at a later time on your PC.
These are just some ways that the eVoice mobile app can be used to maintain your business image. Please feel free to share with us how eVoice is helping your business, or tell us what other mobile apps you find helpful.